2020-11-21
Publié par

yduwelz
à l'adresse 22:35


2020-11-13
Publié par

yduwelz
à l'adresse 20:01


2019-05-08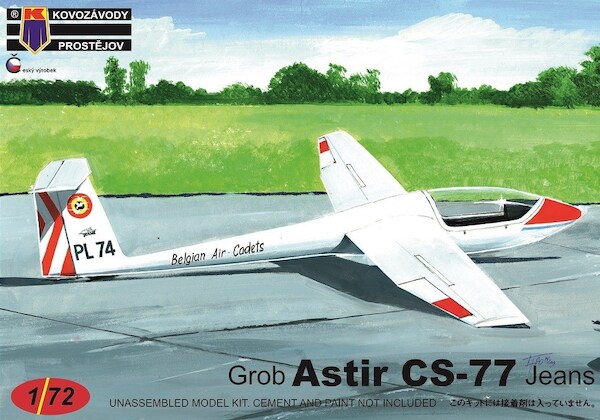 Grob Astir CS-77 "Jeans" Including Belgian Air Cadets markings!!! (Kovozávody Prostejov KPM72131)
€ 10.70
Provisional price
subject to change


EU: incl. tax € 12.95
This product was added to our database on Friday 12 April 2019.
Publié par

yduwelz
à l'adresse 18:37


2019-04-28
Forwarded message - De :
Robert Verhegghen
Yves, découvrez ce qu'il a publié.




Co owner of the former PL66 of the Belgian Air cade… Voir plus


Facebook Ireland Ltd., Attention: Community Operations, 4 Grand Canal Square, Dublin 2, Ireland



Publié par

yduwelz
à l'adresse 16:48


2017-07-20
Publié par

yduwelz
à l'adresse 22:10


2012-08-22
Who can help Dirk & Johan who are looking for pictures of the Weihe glider used by the Belgian Air Cadets
---------- Forwarded message ----------
From:
Dirk De Quick
<dirk.de.quick@telenet.be>
Een vriend van ons, Johan Kieckens is op zoek naar een foto die hij mag gebruiken voor publicatie van een Focke Wulf Weihe zwever (PL50) van de Luchtcadetten.
Ik heb er geen, en zie dat er geen staat op de database van Belgian Wings.
Heeft iemand van jullie er soms een foto van ?
Ik ga ook een oproep doen naar al de mailadressen die ik heb ex Luchtcadetten, moest dit wat opleveren stuur ik die zeker door voor de database.
---
Van: Johan Kieckens [mailto:johan.kieckens@telenet.be]
Verzonden: zaterdag 18 augustus 2012 16:43
Aan: Dirk De Quick
Onderwerp: Weihe PL50
Ik ben een Duitse vriend aan het helpen met een uitgebreid boek over de gekende Duitse ontwerper Hans Jacobs.Ik heb hem heel wat fotomateriaal kunnen bezorgen maar we zijn nu op zoek naar een foto van de Weihe PL50 van de luchtcadetten.Dit tyoestel is ook een ontwerp van Jacobs en hij had graag een foto gehad.Ik weet dat er fotos van bestaan,er staat trouwens een in het boek Zweefvliegen in Vlaanderen.Ik weet ook ondertussen dat de groep militairen die het onderhoud van deze kisten doet zo nu en dan aan de restauratie bezig zijn.
Mijn vraag is of jij een foto van de PL50 hebt,of iemand die dit heeft en of het ook mag gepubliceerd worden.Het boek is al zo ver klaar dat de grafische vormgeving al achter de rug is en dat hij zal uitkomen rond kerstmis.
Dirk ik had gehoopt dat jij de nodige contacten had.
Bedankt op voorhand en tot later,Johan
Publié par

yduwelz
à l'adresse 00:03