2020-11-01
Publié par

yduwelz
à l'adresse 11:38


2020-09-23
Publié par

yduwelz
à l'adresse 18:40


2020-08-19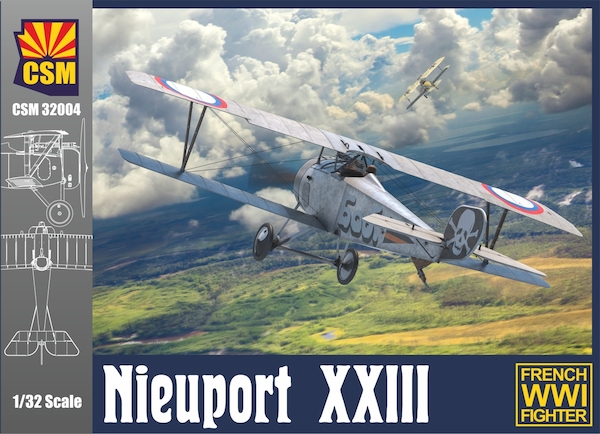 Nieuport XXIII (Copper State Models CSM32004)
€ 61.94
EU: incl. tax €

74.95
This product was added to our database on Wednesday 5 August 2020.
Category Aircraft Scale Modelling, Subcategory Aircraft Scale Modelling, Scale 1 : 32, ISBN/Box CSM32004, Publisher/Brand Copper State Models, Version Injection
6 plastic frets
instruction in colour
film for windscreens
2 PhotoEtch
Cartograf printed decals for 4 markings
https://www.aviationmegastore.com//?action=prodinfo&parent_id=&art=171926
Publié par

yduwelz
à l'adresse 10:14


2020-05-06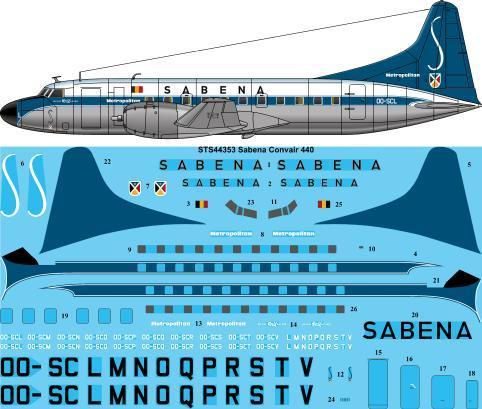 Convair 440 Metropolitan (Sabena) (Two Six decals sts44353)
€

12.36




EU: incl. tax € 14.95
Reduced shipping charge may be applicable depending on country of destination and contents of shopping cart. Will be shown before checkout.
Add to cart
This product was added to our database on Sunday 12 April 2020.
Mind: this item is a decal sheet that serves to decorate a scalemodel. The scalemodel is not included and needs to be ordered separately.
Category Aircraft Scale Modelling, Subcategory Airliner Model Decals, Scale 1 : 144, ISBN/Box sts44353, Publisher/Brand Two Six decals, Version screenprint
Publié par

yduwelz
à l'adresse 22:10


2020-04-15
The 122nd edition of Workbench
FIRST FRAMES FROM NEW SPITFIRE VC TOOLING
If you're looking for the latest news from the fascinating world of Airfix modelling, then you are in luck!
In this edition of Workbench we bring you an exclusive update from our latest Spitfire kit project, as well as a first look at the test build of our exciting new Cromwell Tank tooling in 1/35th scale. In addition to this, we have a very exciting competition for readers to enter, with some great Airfix prizes up for grabs.
For all of this and more, head over to the Airfix website and read the latest instalment of Workbench today!
An exclusive look at the first test shot build from the new 1/35th scale Cromwell Tank tooling which has been receiving so much attention of late
Copyright © Hornby Hobbies 2020. All rights reserved.
Hornby Hobbies is a company registered in England and Wales. Registered number: 2065081.
Registered office: Registered office: Enterprise Road Westwood Industrial Estate, Margate CT9 4JX.
Publié par

yduwelz
à l'adresse 15:43


2020-02-25
This is a reboxed model but including decals for OO-AVC
--
Publié par

yduwelz
à l'adresse 08:16


2019-12-27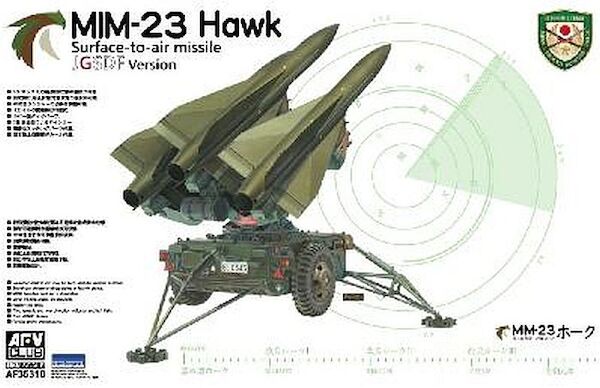 MIM-23 HAWK Missile set (AFV Club AR35310)
€ 59.95


€

42.93




EU: incl. tax € 51.95

Save 13.3%
This product was added to our database on Monday 23 December 2019.
Category Aircraft Scale Modelling, Subcategory Aircraft Scale Modelling, Scale 1 : 35, ISBN/Box AR35310, Publisher/Brand AFV Club, Version lim
The Raytheon MIM-23 Hawk (or HAWK: Homing All the Way Killer) is an American medium-range surface-to-air missile. It was designed to be a much more mobile counterpart to the MIM-14 Nike Hercules, trading off range and altitude capability for a much smaller size and weight. Its low-level performance was greatly improved over Nike through the adoption of new radars and a continuous wave semi-active radar homing guidance system. Hawk was originally intended to attack aircraft, especially those flying at medium and low altitudes. It entered service with the Army in this role in 1959. In 1971 it underwent a major improvement program as the Improved Hawk, or I-Hawk, which made several improvements to the missile and replaced all of the radar systems with new models. Improvements continued throughout the next twenty years, adding improved ECCM, a potential home-on-jam feature, and in 1995, a new warhead that made it capable against short-range tactical missiles. Jane's reported that the original system's single shot kill probability was 0.56; I-Hawk improved this to 0.85. Hawk was superseded by the MIM-104 Patriot in US Army service by 1994. The last US user was the US Marine Corps, who used theirs until 2002 when they were replaced with the man-portable short-range FIM-92 Stinger. The missile was also produced outside the US in Western Europe, Japan and Iran. The US never used the Hawk in combat, but it has been employed numerous times by other nations. Approximately 40,000 of the missiles were produced.
195 parts in light grey plastic (not all are used),
11 clear plastic parts,
2 resin parts, 1 photo-etch fret with 9 parts,
1 5cm2 sheet of material to make 'Remove Before Flight'flags, and 1 decal sheet covering 4 aircraft.
This is a beautiful kit. The recessed details are crisp and scale appropriate and the kit's design suggests a straightforward building experience. With over 200 parts, this is not going to be a weekend build
Highly Recommended
http://www.hobbyfan.com.tw/index.php/Home/Product/detail/tid/4/id/1807.html
https://www.aviationmegastore.com//?action=prodinfo&parent_id=&art=167100
Publié par

yduwelz
à l'adresse 22:22


2019-10-15
| | | |
| --- | --- | --- |
| | | Creating a Savoia-Marchetti S. 73 |
Publié par

yduwelz
à l'adresse 22:20


2019-03-17
The saga started many years ago when I started to search pictures of the 2 Lockheed Super Electra (OO-CAG and OO-CAH) used by Sabena in Congo between 1940 and 1945. Although few pictures of the Lodestars of the Sabena are well known, I cannot find anything until 2017 where Aviation Society of Antwerp published pictures of OO-CAG (
http://www.asa-be.com/photogallery_BCR_C.htm
)
The aircraft is camouflaged as the Lodestar were. I also heard a lot of rumours about a VHS Video which include a video where Lodestars and Super Electra in Congo are on film. But although everybody seems to know this video, nobody had a copy. While sorting of aviation magazines, I found a picture of OO-CAG in Aluminium colours in Les Ailes Militaires Françaises (Nr 12). The colours were again the same as the ones of the Lodestar.
Finally, in 2017, I found a VHS titled "Sabena in Congo during the war" containing well a film explaining the post services between Congo and South Africa during the 2nd World War and showing colour images of a Super Electra in aluminium colour.
In the same time, I was looking for pictures, I was already searching for a suitable model of the Lockheed 14. In Hoboken, I already bough in the past scale models of Modellbaustudio Rhein-Ruhr (
http://www.classic-plane-mrr.de/
) and I had the good surprise to find amongst others gem they made a kid for the Lockheed 10 Electra as well as a conversion kit to transform a Lockheed Hudson in Lockheed 14 Super Electra. Talking with Detlef, he said to me he was interested to prepare a kit for the Sabena Super Electra if I can provide to him the needed information. I spent a lot of to prepare colour profiles, I sent to him.
Last Saturday, I had the very good surprise to discover the kit based on the Italeri Hudson (I had already bought myself as a base for an Hudson of John Mahieu Aviation.
A good example of a long quest where history and scale modelling passions meet.
It is also a good example of the role played by Sabena during World War 2, keeping open strategic links in Africa. A good occasion to remember the permanent connections between civil and military aviation in Belgium since the origins as it seems there are again there are attempts to rewrite history and to delete this fact.
(
http://www.congoposte.be/posteaerienne.htm
)
Un rapport de la SABENA ("L' effort de guerre de la Sabena"), 30/3/1945
.
Special Thank you to Detlef of Modellbaustudio Rhein Rhur as well to the wonderful peoples of the Aviation Society of Antwerp and their continous efforts since so many years to perserve the history of the aviation in Antwerp and in our country.
www.belgianaviationnews.be
Publié par

yduwelz
à l'adresse 13:56


2019-02-09
The Wait is Over: HK Models Releases New 1/32 Avro Lancaster Mk I Model Kit

HK Models has released their highly anticipated Avro Lancaster model kit in 1/32 scale. The limited release kit (HKM-01E010) reportedly spans 972mm and measures 664mm in length. It features over 824 parts and includes a one piece molded top and b…
Publié par

yduwelz
à l'adresse 20:54


2019-01-23
Once in use in the Belgian Air Force
US Army Surface to Air Missile MIN-14 Nike Hercules

Also used by the Dutch Air ForceÂ
Publié par

yduwelz
à l'adresse 12:43


2019-01-11
The decals for the F16 of Vador
http://syhartdecal.fr/references.php?lang=FR&page=description&ref=Syhart%20110&numero_ref=&nom_fichier=&extension=
www.belgianaviationnews.be
Publié par

yduwelz
à l'adresse 00:00


2019-01-03
Forwarded message - From:
IPMS Moorsele
IPMS Moorsele a publié dans 24e Expo IPMS Moorsele : 07/04/2019 . IPMS Moorsele 2 janvier, 13:05 Foto's van de editie van vorig jaar --- Des photos de l'édition... Voir plus IPMS Moorsele beurs 2017 De foto's van de IPMS Moorsele beurs van verleden jaar. Nu zondag 15 april 2018 is er de 23e editie ... J'aime Commenter Partager


Facebook Ireland Ltd., Attention: Community Operations, 4 Grand Canal Square, Dublin 2, Ireland
Publié par

yduwelz
à l'adresse 22:48