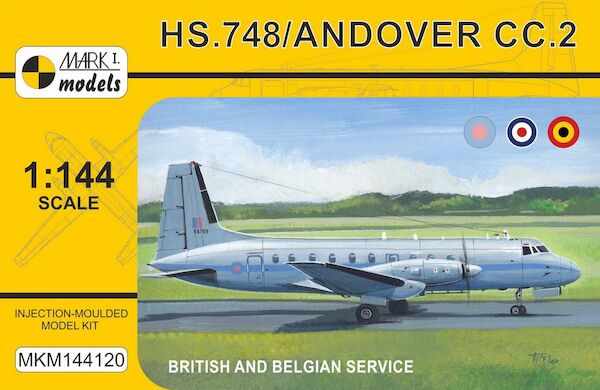 Hawker Siddely HS748/Andover Military 'Europe' (RAF, RAE, Belgian AF) (Mark1 MKM144120)
€

20.62


Provisional price
subject to change


EU: incl. tax € 24.95
This product was added to our database on Thursday 30 April 2020.
Category Aircraft Scale Modelling, Subcategory Aircraft Scale Modelling, Scale 1 : 144, ISBN/Box MKM144120, Publisher/Brand Mark1, Version injection
The HS.748 was a British short/medium-range twin-engined airliner designed during the late 1950s. It was originally developed and initially produced by A.V. Roe & Co., then – after its dissolution – by Hawker Siddeley Aviation and later by its successor, British Aerospace. The 748 was a remarkably successful aeroplane and an effective DC-3 replacement in many parts of the world. The first prototype (G-APZV) first flew in June 1960. Initially, the Srs.1 version for 44 passengers was built (24 a/c), then production was switched to the 52-seat Avro 748 Srs.2, followed by the Srs.2A and 2B with further increases in power and maximum weight. A total of 350 HS.748s were built which also included 89 aircraft manufactured by Indian Hindustan Aeronautics and this type continued in production until 1988. The HS.748 was a low-wing monoplane of an all-metal construction, fitted with a nose-wheel type tricycle undercarriage. The flight crew consisted of two members, while the cabin accommodated passengers or could be adjusted to mixed passenger/freight layout. Powered by two Dart turboprop engines, it possessed a high level of performance, including short takeoff and landing (STOL) capabilities and overall ruggedness. In freight configuration the aircraft was capable of hauling payloads in excess of 10,000 lb (4,540 kg). Significant military users included the RAF, the Royal Australian and the Royal Thai Air Forces. Lower numbers of the 748 were delivered to air forces of Belgium, Brazilia, Colombia, Ecuador and India, while the majority of the 748s were flown by various British and overseas airline operators. Colour schemes included in the kit: 1) Hawker Siddeley HS.748 (Srs.2 Model 206) Andover CC Mk.2, XS789 (c/n 1561), No.32 Sq., Royal Air Force, Northolt Air Base, Greater London, U.K., early 1990s 2) Hawker Siddeley HS.748 (Srs.1 Model 107), XW750 (ex-Smiths Industries Ltd. G-ASJT, c/n 1559), 'Raspberry Ripple', Royal Aircraft Establishment (RAE)/ Defence Evaluation and Research Agency (DERA)/QinetiQ, Royal Air Force, Bedford/Farnborough/Boscombe Down Air Bases, Bedfordshire/Hampshire/Wiltshire, U.K., 1983-2004 3) Hawker Siddeley HS.748 (Srs.2A Model 288), CS-03 (c/n 1743), Yellow 43, 21e Esc. 'Sioux', 15 e Wing Transport Aérien, Belgian Air Force (Force aérienne belge/Belgische Luchtmacht), Brussels/Melsbroek Air Base, Belgium, 1978 This injection-moulded kit contains 51 parts. For modeller's convenience a display base, made of card, depicting tarmac section of the military airport is added. A comprehensive instruction leaflet and a decal sheet are included.