2023-06-02
Publié par

yduwelz
à l'adresse 19:30


2023-05-15
Publié par

yduwelz
à l'adresse 16:19


2023-04-15
https://www.facebook.com/groups/Belgianwings/permalink/6065631726864000/
Belgian Wings | Finally, the long expected book on the "**Fairchild C-119F & G Flying Boxcar bij de Belgische Luchtmacht"** is going into print
Finally, the long expected book on the "**Fairchild C-119F & G Flying Boxcar bij de Belgische Luchtmacht"** is going into print. The book contains 496...
Publié par

yduwelz
à l'adresse 14:16


An illustrated History of Hergé's aircraft. From Tintin to Jo. Zette and Jocko

Aircraft feature prominently in the graphic works of Hergé . This detailed study in 176 full colour pages details each type and places it in its historical context. With the timeless work of Hergé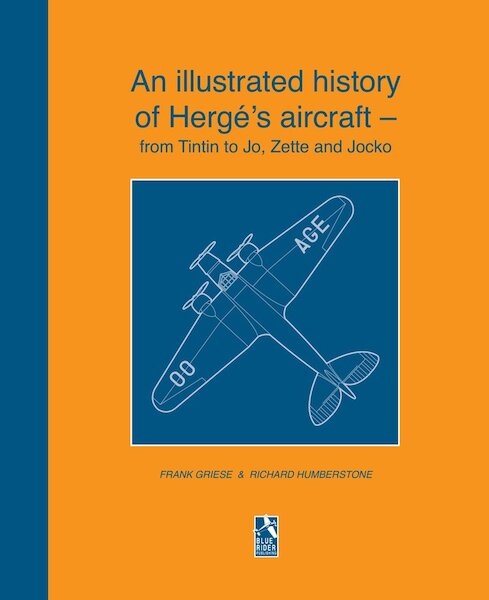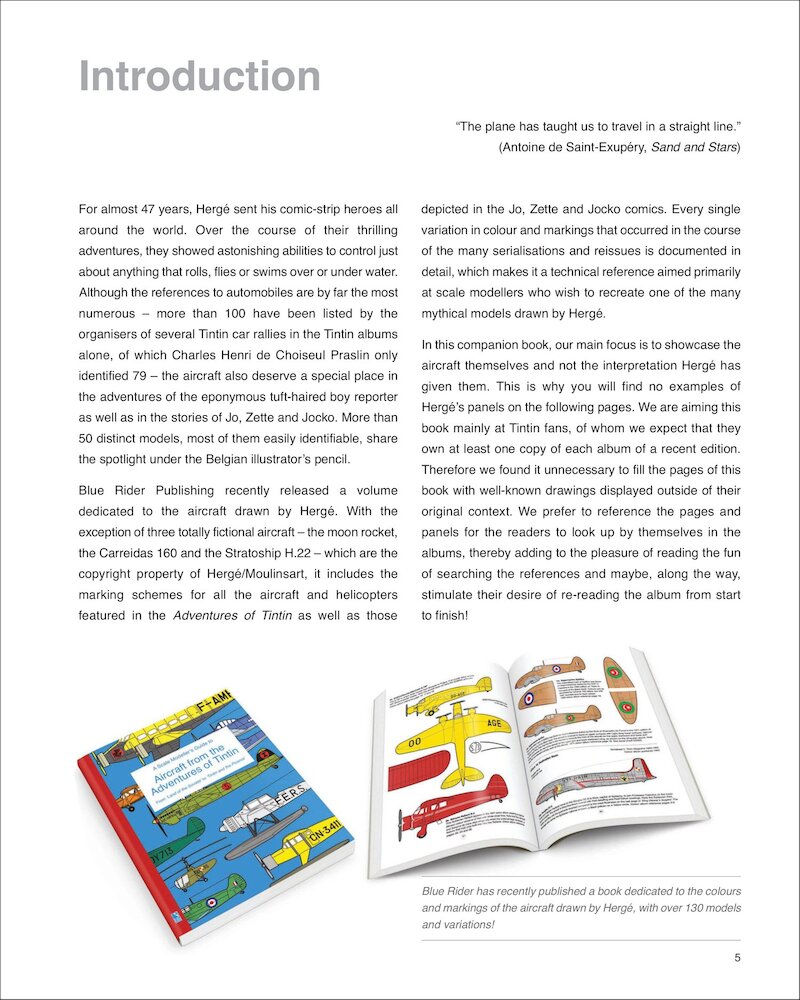 Publié par

yduwelz
à l'adresse 14:05


2023-03-25
Forwarded message - From: Polydore Stevens
From: Helion & Company Ltd




More Africa@War Titles Now Available in Digital Format

More Titles in Helion's
Africa@War Series
Now Available in Digital Format!

New Digital Releases


Africa@War Series

Here is the next batch of digital format titles for the Africa @War series.
More titles will continue to be released as eBooks in the next few months.
Keep your eye on emails and the Helion website for more information.

Special Launch Offer!


Until Sunday 26th March, you can grab any of these PDF format titles at special launch offer prices - see below for details

RRP £9.99 Launch Offer £7.99

RRP £9.99 Launch Offer £7.99

RRP £9.99 Launch Offer £7.99

RRP £9.99 Launch Offer £7.99

Click on the image above to see the whole Helion Digital Editions range of eBooks.

eBook Formats
All books in the @War series have a large number of quite sizeable graphical images (photos, maps, profile images, diagrams, etc.) throughout the text, which makes them most suitable for a fixed digital format, so we have decided to make them available as PDF files only. They can be read on most devices such as PC, tablet, phone, & ereaders like the Amazon Kindle. PDF Readers such as Adobe Acrobat DC are widely available for free.

Techie Stuff
Helion Digital Editions have been extensively tested on a range of devices.
For any technical issues you may experience with any of your devices, you will need to talk to whoever usually helps you with your computer and IT issues. Helion & Co cannot provide technical support

How will I get my Helion Digital Editions eBooks?
We deliver these to your account on the Helion website, so you must have an account in order to buy Helion Digital Editions eBooks. If you don't have one, you will be prompted to create one.
When you buy any Helion Digital Edition, it will be added to the "Your eBooks" section of your Helion website account. So, all you need to do is log into your account, go to "Your eBooks" and click on the link for your digital purchase, which will then download with your web browser.
Your Helion Digital Editions purchases remain stored in your account, so you can download them again any time you need to.

Copyright © 2023 Helion & Company Limited, All rights reserved.


Our mailing address is:


Helion & Company Limited

Unit 8, Amherst Business Centre

Budbrooke Road

Warwick

,

Warwickshire

CV34 5WE

United Kingdom
Publié par

yduwelz
à l'adresse 10:50


2023-02-25
Publié par

yduwelz
à l'adresse 10:31


2022-12-25
Publié par

yduwelz
à l'adresse 13:47


2022-11-06
Ca valait la peine d'être patient.
Jean-Louis Roba & Peter Taghon ont frappé très fort avec ce livre très complet et fort bien illustré (voir le lien avec un exemple de quelques pages plus bas). De nombreux aérodromes et pistes de secours font l'objet d'une entrée. On attend le tome II avec impatience
https://www.avions-bateaux.com/produit/souscription-nouveaut%C3%A9-/4907
LA LUFTWAFFE EN BELGIQUE. TOME I - Conquête et installation
DESCRIPTION :
Dès septembre 1939 et durant toute la 'Drôle de Guerre', l'espace aérien de la Belgique neutre fut sillonné par les appareils des belligérants profitant de la faiblesse de l'Aéronautique Militaire. Les avions de reconnaissance allemands purent ainsi relever les futures routes d'invasion. Le 10 mai 1940, la Wehrmacht entrait dans le pays et, jusqu'à la fin de ce mois, les combats firent rage dans le ciel belge devenu un enjeu stratégique majeur pour les envahisseurs. Avec le retrait du corps expéditionnaire britannique, les engagements aériens se raréfièrent (bien que toujours actifs en France) ce qui permit aux services de la Luftwaffe de s'établir très vite dans le pays pour remettre en état les aérodromes ainsi que les structures militaires pouvant leur servir.
Après la capitulation française à la fin du mois de juin 1940, la Belgique ne connut que peu de combats aériens de jour, que ce soit lors de la « Bataille d'Angleterre » ou de la « Non-Stop Offensive » en 1941, étant 'protégée' par la distance la séparant des bases de chasse de la RAF. Tout au plus, des navires et quelques ports devinrent les cibles de l'aviation britannique.
Par contre, la Belgique était (comme les Pays-Bas) sur une des routes directes empruntée par les appareils du Bomber Command partant de nuit attaquer les usines de la Ruhr. D'où l'implantation rapide dans le pays d'unités de chasse nocturne (Nachtjagd) qui allaient se faire un nom (les fameux 'Ghosts of Saint-Trond' redoutés par les équipages de la RAF).
La période 1939-1942 fut donc contrastée avec de sanglants combats lors de l'offensive à l'ouest suivis par une relative tranquillité dans les cieux belges seulement troublés par une montée en puissance du Bomber Command. Les quelques intrusions des 'lourds' américains en 1942 demeurèrent 'anecdotiques' bien qu'annonciateurs d'une menace croissante.
Environ 280 pages, enrichies par plus de 750 photos.
Tome II programmé pour DEC. 2022 !
LA LUFTWAFFE EN BELGIQUE. TOME I - Conquête et installation | Avions-Bateaux.com
Extrait du livre
https://www.avions-bateaux.com/uploads/attachment/produit//produit_4907_c5a5044807eb1859a0e1e350b7baefa0.pdf
Un des profiles qui illustre le le livre
Publié par

yduwelz
à l'adresse 10:27


2022-10-16

On October 13, I was at the press event for this new book of 280 pages in 3 languages (Dutch, French an English)
This book is the reference for anyone interested in our Air Force and for sure the perfect gift for coming Christmas.
With more than 100 original color profiles this is also a "must have" book for all scale modelers and aviation lovers.
Publié par

yduwelz
à l'adresse 17:01


https://histoireetcollections.com/fr/raids-aviation/5018-raids-aviation-n062.html
Accueil

Magazines

Raids aviation

RAIDS Aviation

RAIDS AVIATION N°062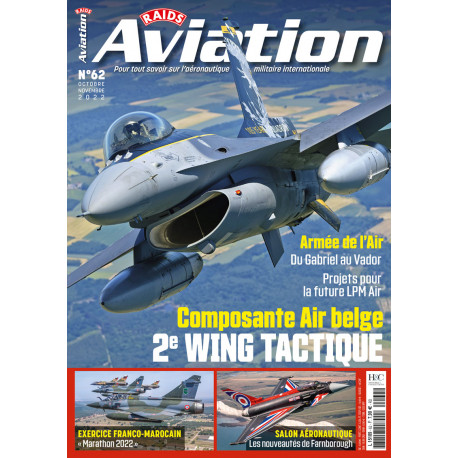 
 
Numéro bimestriel #62 d'octobre-novembre 2022
RAIDS-AVIATION
Brèves France

ARMÉE DE L'AIR ET DE L'ESPACE
. De gros sujets pour la future LPM
DELTAS ET FLÉCHETTES SUR L'ATLAS
Exercice "Marathon 2022"
DU GABRIEL AU VADOR
Les "oreilles françaises" au-dessus de la Roumanie
RAIDS-AVIATION
Brèves internationales
DANS L'OBJECTIF DU SPOTTER
FORCES AÉRIENNES
. Les 1re et 350 escadrilles du 2e Wing tactique belge
AÉRONEF
Nouvelle vie pour l'IrAn-140 Faraz
SALON AÉRONAUTIQUE
Farnborough 2022

Publié par

yduwelz
à l'adresse 16:55