Forwarded message - De :
Musée de l'Air et de l'Espace
<
Retour sur le meeting du centenaire
Le weekend des 28 et 29 septembre, le musée de l'Air et de l'Espace célébrait son centenaire lors du traditionnel Carrefour de l'Air et par un meeting aérien exceptionnel. Un rendez-vous dominé par une démonstration inédite de la Patrouille de France et couronné de succès, avec plus de 5 000 participants. Merci à tous d'avoir fait de ce weekend une belle réussite ! Le musée tient à également à remercier ses partenaires ainsi que les bénévoles qui ont rendu cet évènement possible.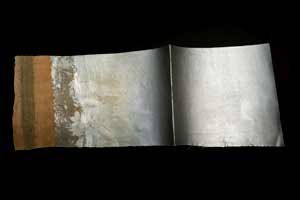 Objet du mois : Fragment d'entoilage du Ryan NYP Spirit of St. Louis
Endommagé par une foule enthousiaste au moment de son arrivée au Bourget, dans la nuit du le 21 mai 1927, le Spirit of St. Louis de Charles A. Lindbergh est réparé dès le lendemain. Ce fragment d'entoilage a été prélevé à cette occasion.
Cette pièce de toile provient du Spirit of St. Louis à bord duquel Charles A. Lindbergh réalise, les 20 et 21 mai 1927, en 33 h et 30 minutes, la première liaison New-York-Paris de l'histoire. Endommagé par la foule qui se presse au Bourget à l'arrivée de l'aviateur, l'appareil nécessite des réparations. Réalisées dès le lendemain, elles comprennent le remplacement partiel de l'entoilage. Ce fragment, prélevé à cette occasion, présente l'aspect rigide de la toile enduite et peinte tandis que sa partie inférieure, découverte par le retrait d'une pièce de renfort, laisse voir le textile écru et une couture d'atelier.

La Légende des Cieux
Du 25 septembre au 25 mars 2020, le musée de l'Air et de l'Espace accueille le
street artist
C215 pour l'exposition-parcours
La Légende des Cieux
, célébrant les aventuriers de la 3
e
dimension. Partez à la recherche des
30 portraits
de figures de l'aéronautique et de l'espace disséminés dans la ville du Bourget et dans les halls du musée, où sont présentés
plusieurs objets inédits
dans le cadre d'une exposition-coulisses sur la genèse du projet.
Réouverture de la Grande Galerie
Rendez-vous en décembre pour la réouverture de la Grande Galerie dans l'aérogare historique du Bourget ! Après trois années de rénovation, la Grande Galerie retrouve son lustre d'antan et révèle un nouveau parcours muséographique dédié aux Pionniers de l'Air et à la Grande Guerre, enrichi d'œuvres inédites et de pièces longtemps conservées en réserve. Suivez les coulisses de cette réouverture sur nos réseaux sociaux #GrandeGalerieMAE
Saga du centenaire
Le 11 octobre 1981, le « premier » musée de l'Air situé à Chalais-Meudon - ouvert en 1921 - ferme ses portes au public. Le musée s'installe alors définitivement sur l'aéroport de Paris-Le Bourget, six ans après l'ouverture du premier hall du nouveau musée sur cette plateforme mythique. Toujours en 1981, la fin du trafic commercial régulier au Bourget permet au musée de prendre progressivement place au sein de l'aérogare de Georges Labro.

Musée de l'Air et de l'Espace
Aéroport de Paris – Le Bourget
3, esplanade de l'Air et de l'Espace
BP 173 – 93352 Le Bourget CEDEX