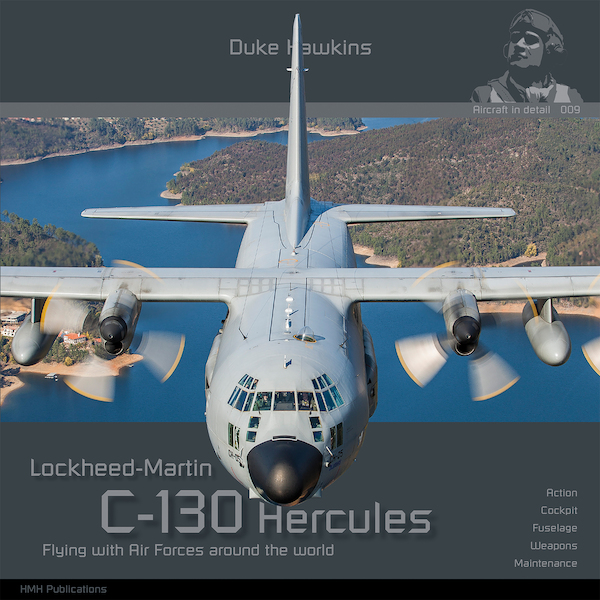 Lockheed C130 Hercules around the world (Expected November 2019) (HMH Publications 009)
€

27.48


EU: incl. tax € 29.95
This product was added to our database on Tuesday 16 April 2019.
Category Aviation Books, Subcategory US Prop Aircraft, ISBN/Box 009, Series Aircraft in Detail 009, Publisher/Brand HMH Publications, Format a4, No. Pages 176, Version sb, Language English
We all know and like the Lockheed C-130, right? This is an aircraft that has operated from every continent in the world an has seen service in 72 different countries. At the 65th anniversary of its first flight, this 198 page book will give you a very close look at the famous Hercules ! And we will cover most of the versions currently in use, from the 'classic' C-130H to the C-130J and all the different versions used for different tasks! From Hurricane Hunters to Fire Fighters and Flying Gunships!
This book will provide you with every detail of the C-130 and is filled with action. On top of that, we bring a closer look at some of the more specific versions of the type:
MC-130J Commando II
MC-130H Combat Talon II
LC-130H/J - C-130 on skies and many more



Normally, when we introduce the different models of an aircraft, we need just 4 pages. Well, you can forget about that with the C-130 Hercules. To give you an idea of types of the C-130 that active today (or in the recent past), we needed 14 pages! And although most of the 2.500+ C-130's that have been built are used as a transport aircraft, the aircraft has been operated in other roles too, carrying impressive names like Dragon Spear, Combat Shadow, Compass Call or Spooky, the C-130 turned gunship.

As the price is not yet determined we cannot open the pre-order option yet but as soon as we have more info (and a picture of the cover!) we will add it to our website and let you know!