The Volume 1 was already a "must have" and you read the name of Peter Taghon as the author, you can be sure, you will spend many hours reading.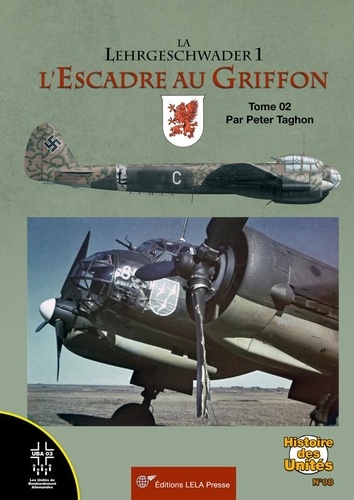 La Lehrgeschwader 1, l'Escadre au Griffon. Tome 02 (LELA Presse 9782374680309)
€ 39.40
EU: incl. tax €

42.95
| | | |
| --- | --- | --- |
| Category | : | Aviation Books |
| Subcategory | : | WW2 German Units |
| ISBN/Box | : | 9782374680309 |
| Series | : | Histoire des Unités 08 |
| Publisher/Brand | : | LELA Presse |
| Author | : | Peter TAGHON |
| Format | : | a4 |
| No. Pages | : | 288 |
| Version | : | Hard cover |
| Language | : | French |
| Availability | : | only 1 remaining |
This product was added to our database on Tuesday 21 july 2020.
Category Aviation Books, Subcategory WW2 German Units, ISBN/Box 9782374680309, Series Histoire des Unités 08, Publisher/Brand LELA Presse, Author Peter TAGHON, Format a4, No. Pages 288, Version Hard cover, Language French
La Lehrgeschwader 1 engagée en Méditerranée dès le début de 1941 face aux forces britanniques s'était très vite fait respecter par ses opposants (qu'ils aient été de la Navy ou de l'armée de terre), ayant gagné lors de ces sanglants combats le redoutable surnom de 'Helbig's flyers' (selon le nom d'un de ses meilleurs officiers). Mais, en septembre 1942, le III./LG 1détaché 'temporairement' en URSS et dès lors coupé du reste de l'escadre, fut redésigné III./KG 6. Le I./KG 55, volant également sur Ju 88, devint ainsi le nouveau III./LG 1. Si ce Gruppe fut dissous en mai 1944, les I. et II./LG 1 combattirent pour leur part jusqu'à la fin de la guerre, quittant l'Italie pour être engagés sur la Normandie au moment du Débarquement de juin 1944 puis sur le Reich tant à l'ouest (Bataille des Ardennes) qu'à l'est (face au rouleau compresseur soviétique). Les reliquats de la LG 1 ne furent dissous de facto qu'au début du mois de mai 1945. Durant toute cette période de guerre, l'escadre vola principalement sur divers types de Ju 88 (A-5, A-4, A-14, S-3). Alors que d'autres Kampfgeschwader furent équipées d'appareils plus modernes (Ju 188 ou Do 217), la LG 1 combattit jusqu'au bout sur des avions que l'on pourrait taxer de dépassés. Mais, tandis que les autres KG furent dissoutes ou passèrent sur chasseurs, la Lehrgeschwader 1 fut une des très rares unités de la Luftwaffe à traverser les quelque six années de guerre en tant que pure unité de bombardement.
Un ouvrage de 288 pages illustré de 600 photos et 29 profils en couleur de la main de Thierry Dekker. Dans ce Tome II figurent de nombreuses annexes (les pertes de l'unité ainsi que des listes des appareils, des aviateurs et des officiers ayant mené les groupes et les escadrilles).
On en parle sur le net et dans la Presse :
- Ce pavé de 290 pages environ fait suite au premier tome sur la LG 1 afin d'étudier l'unité entre mai 1942 et la fin de la guerre.
Nous pouvons suivre tour à tour les opérations en Afrique jusqu'au départ de l'escadre au griffon en 43 avant d'envahir la Sicile et de repartir en Italie puis en France et enfin en Allemagne pour défendre un Reich agonisant.
Cet ouvrage est agrémenté d'environ 600 photos et parfaitement enrichi de 29 superbes profils de Thierry Dekker, source d'inspiration pour les maquettistes.
Les photos montrent d'intéressants détails sur l'armement ou des versions spécifiques comme les Mistel en fin de guerre ainsi que des scènes de la vie de l'unité.
Le texte est très précis sur les opérations effectuées par la LG1.
Même si cette unité n'était pas équipé d'avions de chasse, le Ju-88 reste un avion très prisé des maquettistes et ce tome (tout comme le précédent) devraient ravir nombre d'entre eux.
En fin d'ouvrage, les annexes traitent des pertes connues de l'unité, des numéros de série des appareils employés, des membres du personnel volant pendant toute la guerre, des membres médaillés de la Croix de fer et enfin des commandants d'unités.
Ces deux livres restent une source incontournable sur la LG1 ils sont vivement recommandé pour les amateurs du sujet. © Christophe Verdoux pour Master194 / Smal-tracks.org / Fighters.forumactif.com.
- Tout ce qui a été dit pour le premier volume (cf ci-dessus) peut être re-dit sur ce second : nombreux extraits de souvenirs de pilotes intégrés à un texte chronologique qui lui-même doit dériver d'un Journal de Marche d'unité.
Par contre, la variété très présente dans le premier volume a fait place ici au Ju 88 Super-star et surtout en Méditerranée de Tobrouk à la Grèce (mais aussi la Normandie et l'Europe du Nord sur la fin)! Mais avec des camouflages très variés : tachetés, à " méandres " , sable etc.. A noter que les méandres sont toujours interprétés comme étant en RLM 65 d'intrados (y compris dans les beaux profils de Th. Dekker), mais ce n'est pas toujours vrai : voir page 140, 154,155, 169.
Ici aussi un petit chapitre, voir même un simple encadré sur les camouflages eut été utile ! (parmi les bizarreries mentionnées mais pas illustrées: l'existence d'un Ju 88 immatriculé " L1+AMB " ! Confirmée par le témoignage du pilote.
A noter aussi une page consacrée au… Delanne 10C (page 117)
Egalement des témoignages sur ces membres d'équipages versés dans l'infanterie dans les dernières semaines de la guerre.
En annexe :
· une liste des pertes connues
· Une liste des appareils employés par la LG1
· une liste de tous les personnels volants identifiés étant passés par la LG1.
· Une liste des Ritterkreuzträger de la LG1
· Une liste des commandants d'escadre, de groupe et d'escadrillr
L'iconographie :
· plus de 500 photos noir et blanc : avions, pilotes, véhicules, aérodromes…
· 10 photos couleurs d'époque (plus quelques de photos modernes : tombes, excavation d'épaves).
· 30 profils couleurs.
En conclusion : ceux qui ont apprécié le premier volume, ne seront pas déçus par ce deuxième opus qui présente les même qualités de qualité de recherche, de facilité de lecture et d'iconographie.
https://www.aviationmegastore.com//?action=prodinfo&parent_id=&art=171348
| | | |
| --- | --- | --- |
| | | La Lehrgeschwader 1, l'Escadre au Griffon. Tome 02 | Avions-Bateaux.com |